Omniwheels feature peripheral rollers which provide 360 degree movement & support of irregular shaped items. Ideal for assembly & inspection lines, machine feed & packing areas.
Driven & automatic sorting systems available – Contact us.

Delicate Handling
Speed
1m/sec
Temperature
-20/+100°C
Non-magnetic Construction
Irregular & Deformable Objects
Washdown Conditions / Dirt Debris

OW48-1-(X)-(Y)
OW80-1-(X)-(Y)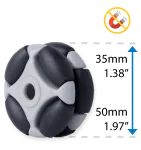 OW35-2-(X)-(Y)
OW50-2-(X)-(Y)
OW90-2-(X)-(Y)
OW125-3-(X)-(Y)
OW180-2-(X)-(Y)
(X) Load & Roller materials
Heavy loads require higher Shore A roller hardness; softer, cushioning materials compromise load capacity.
OW48 & OW80 feature stainless steel axles, other models of non-magnetic, all-plastic construction except when specifying bearing centre hub option.
For Brompton Bike choose 'OW50-2-95-B2'. M6 Bolt, Nut & Washers supplied free of charge for ease of fitting to Brompton Bike.
Step 1: Select Omniwheel size, load & hardness
Hardness Shore A – Example Itens:
| 35 | 85 | 95 | 99 |
| --- | --- | --- | --- |
| Pencil eraser | Show heel | Skateboard wheel | Shoppping cart wheel |
(X) Denotes 'Shore A' value: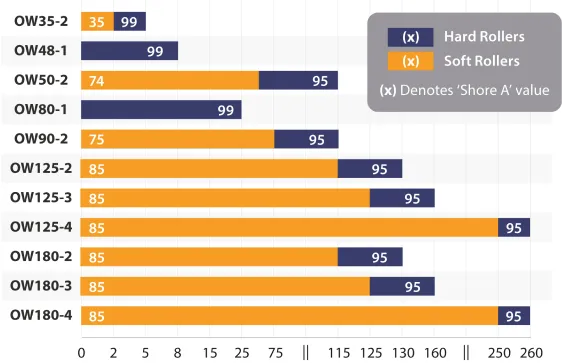 OW48 / OW80 only: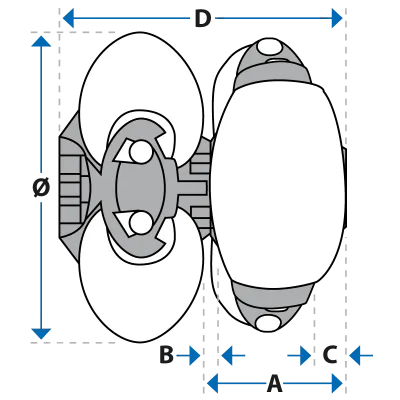 Diameter, Construction & Spacing
Castor applications – ensure diameter is x3 minimum Ø of any step/obstacle in primary direction of travel.
Synchronise rollers to achieve rapid directional change.
Omniwheel OW48-1 & OW80-1 are singular but configure & synchronise by locking together in series.
Other models pre-synchronised in x2, x3 & x4 construction for modular flexibility & support.


Accessories
Castor brackets & fixing flanges.
'Live-storage' section channels & axles.
Specify pre-cut or custom spacer tubes to reduce density for larger rigid items.
XOW50W21A

Use with OW50

From

$

43.08

XOW50U24A

Use with OW50

From

$

573.52

XOW50F21A

Use with OW50

From

$

43.08

XOW125W21A

Use with OW125

From

$

70.01

XOW125W22A

Use with OW125

From

$

249.90
Can't find what you're looking for?
Try searching for key-words, part numbers, load, fixing types.