84 & 94 Series – External Spring Loaded Ball Transfer Units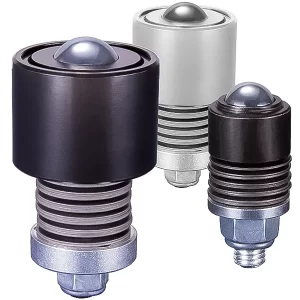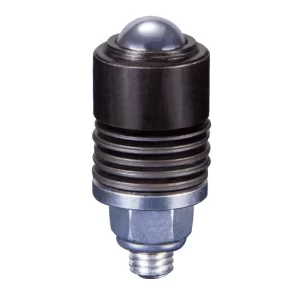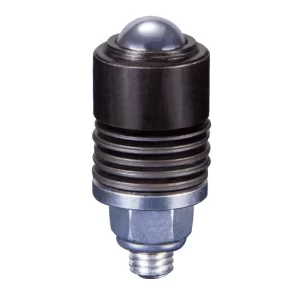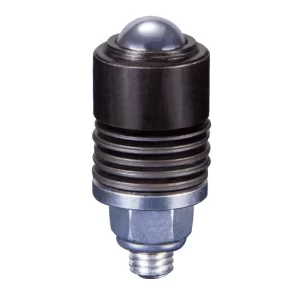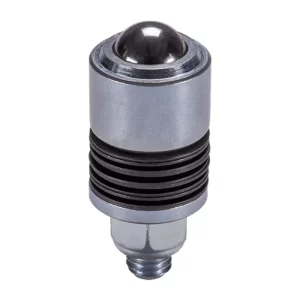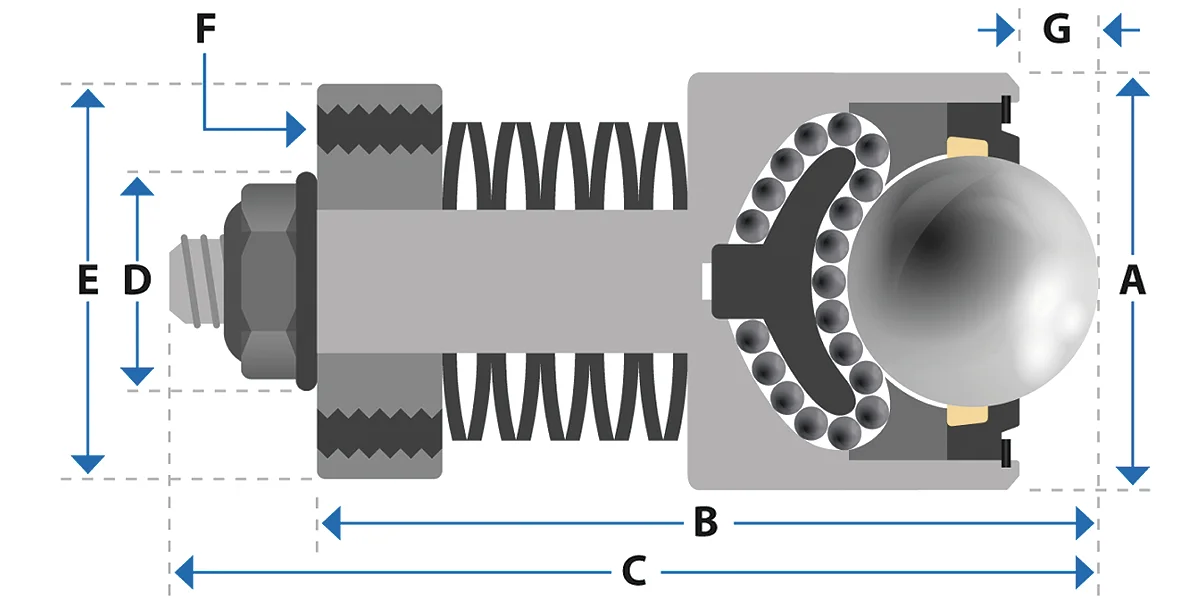 Part

BALL ⌀ ″

BALL ⌀ (MM)

Pre-Load (lb)

Pre-Load (kg)

Max deflection

Load at max deflection

A

B

C

D

E

F

G

$ from

Files
8401

1/2"

12.7

15

7

0.079

2

1.260

32

0.811

20.6

1.268

32.2

1.850

47

0.579

14.7

0.787

20

-

-

0.150

❋

3.8

❋

$

117.95
PDF Step
8402

1/2"

12.7

30

14

0.079

2

1.378

35

0.811

20.6

1.252

31.8

1.850

47

0.579

14.7

0.787

20

-

-

0.150

❋

3.8

❋

$

117.95
PDF Step
8403

1/2"

12.7

50

23

0.079

2

1.496

38

0.811

20.6

1.268

32.2

1.850

47

0.579

14.7

0.787

20

-

-

0.150

❋

3.8

❋

$

117.95
PDF Step
8404

1/2"

12.7

50

23

0.079

2

1.496

38

0.787

20

1.268

32.2

1.850

47

0.579

14.7

0.787

20

-

-

0.150

❋

3.8

❋

$

117.95
PDF Step
8410

1/2"

12.7

15

7

0.079

2

1.260

32

0.874

22.2

1.535

39

1.850

47

0.579

14.7

0.787

20

-

-

0.150

❋

3.8

❋

$

128.48
PDF Step
8411

1/2"

12.7

30

14

0.079

2

1.378

35

0.874

22.2

1.520

38.6

1.850

47

0.579

14.7

0.787

20

-

-

0.150

❋

3.8

❋

$

128.48
PDF Step
8412

1/2"

12.7

50

23

0.079

2

1.496

38

0.874

22.2

1.535

39

1.850

47

0.579

14.7

0.787

20

-

-

0.150

❋

3.8

❋

$

128.48
PDF Step
9420

1"

25.4

15

7

0.213

5.4

5.354

136

1.752

44.5

2.437

61.9

3.031

77

0.756

19.2

1.252

31.8

3 x M5 (0.969)

3 x M5 (24.8)

0.220

5.6

$

337.63
PDF Step
9421

1"

25.4

50

23

0.197

5

5.354

136

1.752

44.5

2.421

61.5

3.031

77

0.756

19.2

1.252

31.8

3 x M5 (0.969)

3 x M5 (24.8)

0.220

5.6

$

337.63
PDF Step
9422

1"

25.4

100

45

0.173

4.4

5.354

136

1.752

44.5

2.398

60.9

3.031

77

0.756

19.2

1.252

31.8

3 x M5 (0.969)

3 x M5 (24.8)

0.220

5.6

$

337.63
PDF Step
9423

1"

25.4

150

68

0.209

5.3

5.354

136

1.752

44.5

2.433

61.8

3.031

77

0.756

19.2

1.252

31.8

3 x M5 (0.969)

3 x M5 (24.8)

0.220

5.6

$

337.63
PDF Step
9424

1"

25.4

200

89

0.106

2.7

8.031

204

1.752

44.5

2.421

61.5

3.031

77

0.756

19.2

1.252

31.8

3 x M5 (0.969)

3 x M5 (24.8)

0.220

5.6

$

337.63
PDF Step
9425

1"

25.4

240

109

0.102

2.6

8.031

204

1.732

44

2.480

63

3.031

77

0.756

19.2

1.252

31.8

3 x M5 (0.969)

3 x M5 (24.8)

0.220

5.6

$

337.63
PDF Step
9430

1"

25.4

200

91

0.303

7.7

13.031

331

2.000

50.8

3.181

80.8

3.752

95.3

0.756

19.2

1.500

38.1

3 x M6 (1.142)

3 x M6 (29)

0.252

6.4

$

386.48
PDF Step
9431

1"

25.4

300

136

0.256

6.5

13.031

331

2.000

50.8

3.134

79.6

3.752

95.3

0.756

19.2

1.500

38.1

3 x M6 (1.142)

3 x M6 (29)

0.252

6.4

$

386.48
PDF Step
9432

1"

25.4

400

181

0.228

5.8

13.031

331

2.000

50.8

3.169

80.5

3.752

95.3

0.756

19.2

1.500

38.1

3 x M6 (1.142)

3 x M6 (29)

0.252

6.4

$

386.48
PDF Step
9433

1"

25.4

500

227

0.181

4.6

13.031

331

2.000

50.8

3.189

81

3.752

95.3

0.756

19.2

1.500

38.1

3 x M6 (1.142)

3 x M6 (29)

0.252

6.4

$

386.48
PDF Step
9440

1 1/2"

38.1

500

227

0.413

10.5

37.795

960

2.374

60.3

4.528

115

6.382

162.1

1.378

35

2.339

59.4

3 x M6 (2.000)

3 x M6 (50.8)

0.500

12.7

$

858.34
PDF Step
9441

1 1/2"

38.1

700

318

0.437

11.1

37.795

960

2.374

60.3

4.764

121

6.382

162.1

1.378

35

2.339

59.4

3 x M6 (2.000)

3 x M6 (50.8)

0.500

12.7

$

858.34
PDF Step
9442

1 1/2"

38.1

1000

454

0.437

11.1

37.795

960

2.374

60.3

5.087

129.2

6.382

162.1

1.378

35

2.339

59.4

3 x M6 (2.000)

3 x M6 (50.8)

0.500

12.7

$

858.34
PDF Step
9443

1 1/2"

38.1

1250

567

0.346

8.8

37.795

960

2.374

60.3

4.996

126.9

6.382

162.1

1.378

35

2.339

59.4

3 x M6 (2.000)

3 x M6 (50.8)

0.500

12.7

$

858.34
PDF Step
9444

1 1/2"

38.1

1500

680

0.362

9.2

37.795

960

2.374

60.3

5.760

146.3

7.469

189.7

1.378

35

2.339

59.4

3 x M6 (2.000)

3 x M6 (50.8)

0.500

12.7

$

858.34
PDF Step
9445

1 1/2"

38.1

1650

748

0.323

8.2

37.795

960

2.374

60.3

6.150

156.2

7.469

189.7

1.378

35

2.339

59.4

3 x M6 (2.000)

3 x M6 (50.8)

0.500

12.7

$

822.89
PDF Step
9450

2"

50.8

1680

764

0.079

2

55.118

1400

4.000

101.6

5.476

139.1

6.311

160.3

2.000

50.8

4.000

101.6

4 x M8 (3.000)

4 x M8 (76.2)

0.563

14.3

$

1,996.26
PDF Step
9451

2"

50.8

1680

764

0.209

5.3

55.118

1400

4.000

101.6

6.894

175.1

7.909

200.9

2.244

57

4.000

101.6

4 x M8 (3.000)

4 x M8 (76.2)

0.563

14.3

$

1,996.26
PDF Step
9452

2"

50.8

2245

1018

0.236

6

55.118

1400

4.000

101.6

6.984

177.4

7.909

200.9

2.244

57

4.000

101.6

4 x M8 (3.000)

4 x M8 (76.2)

0.563

14.3

$

1,996.26
PDF Step
9453

2"

50.8

2800

1273

0.232

5.9

70.866

1800

4.000

101.6

6.874

174.6

7.909

200.9

2.244

57

4.000

101.6

4 x M8 (3.000)

4 x M8 (76.2)

0.563

14.3

$

1,996.26
PDF Step
9454

2"

50.8

3000

1364

0.098

2.5

78.740

2000

4.000

101.6

5.394

137

6.236

158.4

2.000

50.8

4.000

101.6

4 x M8 (3.000)

4 x M8 (76.2)

0.563

14.3

$

1,996.26
PDF Step
9455

2"

50.8

3370

1527

0.224

5.7

80.157

2036

4.000

101.6

6.752

171.5

7.909

200.9

2.244

57

4.000

101.6

4 x M8 (3.000)

4 x M8 (76.2)

0.563

14.3

$

1,996.26
PDF Step
8401A

1/2"

12.7

15

7

0.079

2

1.260

32

0.811

20.6

1.268

32.2

1.850

47

0.579

14.7

0.787

20

-

-

0.150

❋

3.8

❋

$

134.73
PDF Step
8402A

1/2"

12.7

30

14

0.079

2

1.378

35

0.811

20.6

1.252

31.8

1.850

47

0.579

14.7

0.787

20

-

-

0.150

❋

3.8

❋

$

134.73
PDF Step
8403A

1/2"

12.7

50

23

0.079

2

1.496

38

0.811

20.6

1.268

32.2

1.850

47

0.579

14.7

0.787

20

-

-

0.150

❋

3.8

❋

$

134.73
PDF Step
8404A

1/2"

12.7

50

23

0.079

2

1.496

38

0.787

20

1.268

32.2

1.850

47

0.579

14.7

0.787

20

-

-

0.150

❋

3.8

❋

$

134.73
PDF Step
8410A

1/2"

12.7

15

7

0.079

2

1.260

32

0.874

22.2

1.535

39

1.850

47

0.579

14.7

0.787

20

-

-

0.150

❋

3.8

❋

$

145.28
PDF Step
8411A

1/2"

12.7

30

14

0.079

2

1.378

35

0.874

22.2

1.520

38.6

1.850

47

0.579

14.7

0.787

20

-

-

0.150

❋

3.8

❋

$

145.28
PDF Step
8412A

1/2"

12.7

50

23

0.079

2

1.496

38

0.874

22.2

1.535

39

1.850

47

0.579

14.7

0.787

20

-

-

0.150

❋

3.8

❋

$

145.28
PDF Step
9420A

1"

25.4

15

7

0.213

5.4

5.354

136

1.752

44.5

2.437

61.9

3.031

77

0.756

19.2

1.252

31.8

3 x M5 (0.969)

3 x M5 (24.8)

0.220

5.6

$

374.93
PDF Step
9421A

1"

25.4

50

23

0.197

5

5.354

136

1.752

44.5

2.421

61.5

3.031

77

0.756

19.2

1.252

31.8

3 x M5 (0.969)

3 x M5 (24.8)

0.220

5.6

$

374.93
PDF Step
9422A

1"

25.4

100

45

0.173

4.4

5.354

136

1.752

44.5

2.398

60.9

3.031

77

0.756

19.2

1.252

31.8

3 x M5 (0.969)

3 x M5 (24.8)

0.220

5.6

$

374.93
PDF Step
9423A

1"

25.4

150

68

0.209

5.3

5.354

136

1.752

44.5

2.433

61.8

3.031

77

0.756

19.2

1.252

31.8

3 x M5 (0.969)

3 x M5 (24.8)

0.220

5.6

$

374.93
PDF Step
9424A

1"

25.4

200

89

0.106

2.7

8.031

204

1.752

44.5

2.421

61.5

3.031

77

0.756

19.2

1.252

31.8

3 x M5 (0.969)

3 x M5 (24.8)

0.220

5.6

$

374.93
PDF Step
9425A

1"

25.4

240

109

0.102

2.6

8.031

204

1.732

44

2.480

63

3.031

77

0.756

19.2

1.252

31.8

3 x M5 (0.969)

3 x M5 (24.8)

0.220

5.6

$

374.93
PDF Step
9430A

1"

25.4

200

91

0.303

7.7

13.031

331

2.000

50.8

3.181

80.8

3.752

95.3

0.756

19.2

1.500

38.1

3 x M6 (1.142)

3 x M6 (29)

0.252

6.4

$

428.72
PDF Step
9431A

1"

25.4

300

136

0.256

6.5

13.031

331

2.000

50.8

3.134

79.6

3.752

95.3

0.756

19.2

1.500

38.1

3 x M6 (1.142)

3 x M6 (29)

0.252

6.4

$

428.72
PDF Step
9432A

1"

25.4

400

181

0.228

5.8

13.031

331

2.000

50.8

3.169

80.5

3.752

95.3

0.756

19.2

1.500

38.1

3 x M6 (1.142)

3 x M6 (29)

0.252

6.4

$

428.72
PDF Step
9433A

1"

25.4

500

227

0.181

4.6

13.031

331

2.000

50.8

3.189

81

3.752

95.3

0.756

19.2

1.500

38.1

3 x M6 (1.142)

3 x M6 (29)

0.252

6.4

$

428.72
PDF Step
9440A

1 1/2"

38.1

500

227

0.413

10.5

37.795

960

2.374

60.3

4.528

115

6.382

162.1

1.378

35

2.339

59.4

3 x M6 (2.000)

3 x M6 (50.8)

0.500

12.7

$

1,002.24
PDF Step
9441A

1 1/2"

38.1

700

318

0.437

11.1

37.795

960

2.374

60.3

4.764

121

6.382

162.1

1.378

35

2.339

59.4

3 x M6 (2.000)

3 x M6 (50.8)

0.500

12.7

$

1,002.24
PDF Step
9442A

1 1/2"

38.1

1000

454

0.437

11.1

37.795

960

2.374

60.3

5.087

129.2

6.382

162.1

1.378

35

2.339

59.4

3 x M6 (2.000)

3 x M6 (50.8)

0.500

12.7

$

1,002.24
PDF Step
9443A

1 1/2"

38.1

1250

567

0.346

8.8

37.795

960

2.374

60.3

4.996

126.9

6.382

162.1

1.378

35

2.339

59.4

3 x M6 (2.000)

3 x M6 (50.8)

0.500

12.7

$

1,002.24
PDF Step
9444A

1 1/2"

38.1

1500

680

0.362

9.2

37.795

960

2.374

60.3

5.760

146.3

7.469

189.7

1.378

35

2.339

59.4

3 x M6 (2.000)

3 x M6 (50.8)

0.500

12.7

$

1,002.24
PDF Step
9445A

1 1/2"

38.1

1650

748

0.323

8.2

37.795

960

2.374

60.3

6.150

156.2

7.469

189.7

1.378

35

2.339

59.4

3 x M6 (2.000)

3 x M6 (50.8)

0.500

12.7

$

964.39
PDF Step
9450A

2"

50.8

1680

764

0.079

2

55.118

1400

4.000

101.6

5.476

139.1

6.311

160.3

2.000

50.8

4.000

101.6

4 x M8 (3.000)

4 x M8 (76.2)

0.563

14.3

$

2,216.67
PDF Step
9451A

2"

50.8

1680

764

0.209

5.3

55.118

1400

4.000

101.6

6.894

175.1

7.909

200.9

2.244

57

4.000

101.6

4 x M8 (3.000)

4 x M8 (76.2)

0.563

14.3

$

2,216.67
PDF Step
9452A

2"

50.8

2245

1018

0.236

6

55.118

1400

4.000

101.6

6.984

177.4

7.909

200.9

2.244

57

4.000

101.6

4 x M8 (3.000)

4 x M8 (76.2)

0.563

14.3

$

2,216.67
PDF Step
9453A

2"

50.8

2800

1273

0.232

5.9

70.866

1800

4.000

101.6

6.874

174.6

7.909

200.9

2.244

57

4.000

101.6

4 x M8 (3.000)

4 x M8 (76.2)

0.563

14.3

$

2,216.67
PDF Step
9454A

2"

50.8

3000

1364

0.098

2.5

78.740

2000

4.000

101.6

5.394

137

6.236

158.4

2.000

50.8

4.000

101.6

4 x M8 (3.000)

4 x M8 (76.2)

0.563

14.3

$

2,216.67
PDF Step
9455A

2"

50.8

3370

1527

0.224

5.7

80.157

2036

4.000

101.6

6.752

171.5

7.909

200.9

2.244

57

4.000

101.6

4 x M8 (3.000)

4 x M8 (76.2)

0.563

14.3

$

2,216.67
PDF Step
8401Z

1/2"

12.7

15

7

0.079

2

1.260

32

0.811

20.6

1.268

32.2

1.850

47

0.579

14.7

0.787

20

-

-

0.150

❋

3.8

❋

$

0.00
8402Z

1/2"

12.7

30

14

0.079

2

1.378

35

0.811

20.6

1.252

31.8

1.850

47

0.579

14.7

0.787

20

-

-

0.150

❋

3.8

❋

$

0.00
8403Z

1/2"

12.7

50

23

0.079

2

1.496

38

0.811

20.6

1.268

32.2

1.850

47

0.579

14.7

0.787

20

-

-

0.150

❋

3.8

❋

$

0.00
8404Z

1/2"

12.7

50

23

0.079

2

1.496

38

0.787

20

1.268

32.2

1.850

47

0.579

14.7

0.787

20

-

-

0.150

❋

3.8

❋

$

0.00
8410Z

1/2"

12.7

15

7

0.079

2

1.260

32

0.874

22.2

1.535

39

1.850

47

0.579

14.7

0.787

20

-

-

0.150

❋

3.8

❋

$

0.00
8411Z

1/2"

12.7

30

14

0.079

2

1.378

35

0.874

22.2

1.520

38.6

1.850

47

0.579

14.7

0.787

20

-

-

0.150

❋

3.8

❋

$

0.00
8412Z

1/2"

12.7

50

23

0.079

2

1.496

38

0.874

22.2

1.535

39

1.850

47

0.579

14.7

0.787

20

-

-

0.150

❋

3.8

❋

$

0.00
9420Z

1"

25.4

15

7

0.213

5.4

5.354

136

1.752

44.5

2.437

61.9

3.031

77

0.756

19.2

1.252

31.8

3 x M5 (0.969)

3 x M5 (24.8)

0.220

5.6

$

519.46
PDF Step
9421Z

1"

25.4

50

23

0.197

5

5.354

136

1.752

44.5

2.421

61.5

3.031

77

0.756

19.2

1.252

31.8

3 x M5 (0.969)

3 x M5 (24.8)

0.220

5.6

$

519.46
PDF Step
9422Z

1"

25.4

100

45

0.173

4.4

5.354

136

1.752

44.5

2.398

60.9

3.031

77

0.756

19.2

1.252

31.8

3 x M5 (0.969)

3 x M5 (24.8)

0.220

5.6

$

519.46
PDF Step
9423Z

1"

25.4

150

68

0.209

5.3

5.354

136

1.752

44.5

2.433

61.8

3.031

77

0.756

19.2

1.252

31.8

3 x M5 (0.969)

3 x M5 (24.8)

0.220

5.6

$

519.46
PDF Step
9424Z

1"

25.4

200

89

0.106

2.7

8.031

204

1.752

44.5

2.421

61.5

3.031

77

0.756

19.2

1.252

31.8

3 x M5 (0.969)

3 x M5 (24.8)

0.220

5.6

$

519.46
PDF Step
9425Z

1"

25.4

240

109

0.102

2.6

8.031

204

1.732

44

2.480

63

3.031

77

0.756

19.2

1.252

31.8

3 x M5 (0.969)

3 x M5 (24.8)

0.220

5.6

$

519.46
PDF Step
9430Z

1"

25.4

200

91

0.303

7.7

13.031

331

2.000

50.8

3.181

80.8

3.752

95.3

0.756

19.2

1.500

38.1

3 x M6 (1.142)

3 x M6 (29)

0.252

6.4

$

636.69
PDF Step
9431Z

1"

25.4

300

136

0.256

6.5

13.031

331

2.000

50.8

3.134

79.6

3.752

95.3

0.756

19.2

1.500

38.1

3 x M6 (1.142)

3 x M6 (29)

0.252

6.4

$

636.69
PDF Step
9432Z

1"

25.4

400

181

0.228

5.8

13.031

331

2.000

50.8

3.169

80.5

3.752

95.3

0.756

19.2

1.500

38.1

3 x M6 (1.142)

3 x M6 (29)

0.252

6.4

$

636.69
PDF Step
9433Z

1"

25.4

500

227

0.181

4.6

13.031

331

2.000

50.8

3.189

81

3.752

95.3

0.756

19.2

1.500

38.1

3 x M6 (1.142)

3 x M6 (29)

0.252

6.4

$

636.69
PDF Step
9440Z

1 1/2"

38.1

500

227

0.413

10.5

37.795

960

2.374

60.3

4.528

115

6.382

162.1

1.378

35

2.339

59.4

3 x M6 (2.000)

3 x M6 (50.8)

0.500

12.7

$

1,252.99
PDF Step
9441Z

1 1/2"

38.1

700

318

0.437

11.1

37.795

960

2.374

60.3

4.764

121

6.382

162.1

1.378

35

2.339

59.4

3 x M6 (2.000)

3 x M6 (50.8)

0.500

12.7

$

1,252.99
PDF Step
9442Z

1 1/2"

38.1

1000

454

0.437

11.1

37.795

960

2.374

60.3

5.087

129.2

6.382

162.1

1.378

35

2.339

59.4

3 x M6 (2.000)

3 x M6 (50.8)

0.500

12.7

$

1,252.99
PDF Step
9443Z

1 1/2"

38.1

1250

567

0.346

8.8

37.795

960

2.374

60.3

4.996

126.9

6.382

162.1

1.378

35

2.339

59.4

3 x M6 (2.000)

3 x M6 (50.8)

0.500

12.7

$

1,252.99
PDF Step
9444Z

1 1/2"

38.1

1500

680

0.362

9.2

37.795

960

2.374

60.3

5.760

146.3

7.469

189.7

1.378

35

2.339

59.4

3 x M6 (2.000)

3 x M6 (50.8)

0.500

12.7

$

1,252.99
PDF Step
9445Z

1 1/2"

38.1

1650

748

0.323

8.2

37.795

960

2.374

60.3

6.150

156.2

7.469

189.7

1.378

35

2.339

59.4

3 x M6 (2.000)

3 x M6 (50.8)

0.500

12.7

$

1,212.48
PDF Step
9450Z

2"

50.8

1680

764

0.079

2

55.118

1400

4.000

101.6

5.476

139.1

6.311

160.3

2.000

50.8

4.000

101.6

4 x M8 (3.000)

4 x M8 (76.2)

0.563

14.3

$

2,552.71
PDF Step
9451Z

2"

50.8

1680

764

0.209

5.3

55.118

1400

4.000

101.6

6.894

175.1

7.909

200.9

2.244

57

4.000

101.6

4 x M8 (3.000)

4 x M8 (76.2)

0.563

14.3

$

2,465.99
PDF Step
9452Z

2"

50.8

2245

1018

0.236

6

55.118

1400

4.000

101.6

6.984

177.4

7.909

200.9

2.244

57

4.000

101.6

4 x M8 (3.000)

4 x M8 (76.2)

0.563

14.3

$

2,552.71
PDF Step
9453Z

2"

50.8

2800

1273

0.232

5.9

70.866

1800

4.000

101.6

6.874

174.6

7.909

200.9

2.244

57

4.000

101.6

4 x M8 (3.000)

4 x M8 (76.2)

0.563

14.3

$

2,552.71
PDF Step
9454Z

2"

50.8

3000

1364

0.098

2.5

78.740

2000

4.000

101.6

5.394

137

6.236

158.4

2.000

50.8

4.000

101.6

4 x M8 (3.000)

4 x M8 (76.2)

0.563

14.3

$

2,552.71
PDF Step
9455Z

2"

50.8

3370

1527

0.224

5.7

80.157

2036

4.000

101.6

6.752

171.5

7.909

200.9

2.244

57

4.000

101.6

4 x M8 (3.000)

4 x M8 (76.2)

0.563

14.3

$

2,552.71
PDF Step
8401SS

1/2"

12.7

15

7

0.079

2

1.260

32

0.811

20.6

1.268

32.2

1.850

47

0.579

14.7

0.787

20

-

-

0.150

❋

3.8

❋

$

270.85
PDF Step
8402SS

1/2"

12.7

30

14

0.079

2

1.378

35

0.811

20.6

1.252

31.8

1.850

47

0.579

14.7

0.787

20

-

-

0.150

❋

3.8

❋

$

270.85
PDF Step
8403SS

1/2"

12.7

50

23

0.079

2

1.496

38

0.811

20.6

1.268

32.2

1.850

47

0.579

14.7

0.787

20

-

-

0.150

❋

3.8

❋

$

270.85
PDF Step
8404SS

1/2"

12.7

50

23

0.079

2

1.496

38

0.787

20

1.268

32.2

1.850

47

0.579

14.7

0.787

20

-

-

0.150

❋

3.8

❋

$

270.85
PDF Step
8410SS

1/2"

12.7

15

7

0.079

2

1.260

32

0.874

22.2

1.535

39

1.850

47

0.579

14.7

0.787

20

-

-

0.150

❋

3.8

❋

$

433.97
PDF Step
8411SS

1/2"

12.7

30

14

0.079

2

1.378

35

0.874

22.2

1.520

38.6

1.850

47

0.579

14.7

0.787

20

-

-

0.150

❋

3.8

❋

$

433.97
PDF Step
8412SS

1/2"

12.7

50

23

0.079

2

1.496

38

0.874

22.2

1.535

39

1.850

47

0.579

14.7

0.787

20

-

-

0.150

❋

3.8

❋

$

433.97
PDF Step
9420SS

1"

25.4

15

7

0.213

5.4

5.354

136

1.752

44.5

2.437

61.9

3.031

77

0.756

19.2

1.252

31.8

3 x M5 (0.969)

3 x M5 (24.8)

0.220

5.6

$

1,123.88
PDF Step
9421SS

1"

25.4

50

23

0.197

5

5.354

136

1.752

44.5

2.421

61.5

3.031

77

0.756

19.2

1.252

31.8

3 x M5 (0.969)

3 x M5 (24.8)

0.220

5.6

$

1,123.88
PDF Step
9422SS

1"

25.4

100

45

0.173

4.4

5.354

136

1.752

44.5

2.398

60.9

3.031

77

0.756

19.2

1.252

31.8

3 x M5 (0.969)

3 x M5 (24.8)

0.220

5.6

$

1,123.88
PDF Step
9423SS

1"

25.4

150

68

0.209

5.3

5.354

136

1.752

44.5

2.433

61.8

3.031

77

0.756

19.2

1.252

31.8

3 x M5 (0.969)

3 x M5 (24.8)

0.220

5.6

$

1,123.88
PDF Step
9424SS

1"

25.4

200

89

0.106

2.7

8.031

204

1.752

44.5

2.421

61.5

3.031

77

0.756

19.2

1.252

31.8

3 x M5 (0.969)

3 x M5 (24.8)

0.220

5.6

$

1,123.88
PDF Step
9425SS

1"

25.4

240

109

0.102

2.6

8.031

204

1.732

44

2.480

63

3.031

77

0.756

19.2

1.252

31.8

3 x M5 (0.969)

3 x M5 (24.8)

0.220

5.6

$

1,123.88
PDF Step
9430SS

1"

25.4

200

91

0.303

7.7

13.031

331

2.000

50.8

3.181

80.8

3.752

95.3

0.756

19.2

1.500

38.1

3 x M6 (1.142)

3 x M6 (29)

0.252

6.4

$

1,342.58
PDF Step
9431SS

1"

25.4

300

136

0.256

6.5

13.031

331

2.000

50.8

3.134

79.6

3.752

95.3

0.756

19.2

1.500

38.1

3 x M6 (1.142)

3 x M6 (29)

0.252

6.4

$

1,342.58
PDF Step
9432SS

1"

25.4

400

181

0.228

5.8

13.031

331

2.000

50.8

3.169

80.5

3.752

95.3

0.756

19.2

1.500

38.1

3 x M6 (1.142)

3 x M6 (29)

0.252

6.4

$

1,342.58
PDF Step
9433SS

1"

25.4

500

227

0.181

4.6

13.031

331

2.000

50.8

3.189

81

3.752

95.3

0.756

19.2

1.500

38.1

3 x M6 (1.142)

3 x M6 (29)

0.252

6.4

$

1,342.58
PDF Step
9440SS

1 1/2"

38.1

500

227

0.413

10.5

37.795

960

2.374

60.3

4.528

115

6.382

162.1

1.378

35

2.339

59.4

3 x M6 (2.000)

3 x M6 (50.8)

0.500

12.7

$

2,424.74
PDF Step
9441SS

1 1/2"

38.1

700

318

0.437

11.1

37.795

960

2.374

60.3

4.764

121

6.382

162.1

1.378

35

2.339

59.4

3 x M6 (2.000)

3 x M6 (50.8)

0.500

12.7

$

2,424.74
PDF Step
9442SS

1 1/2"

38.1

1000

454

0.437

11.1

37.795

960

2.374

60.3

5.087

129.2

6.382

162.1

1.378

35

2.339

59.4

3 x M6 (2.000)

3 x M6 (50.8)

0.500

12.7

$

2,424.74
PDF Step
9443SS

1 1/2"

38.1

1250

567

0.346

8.8

37.795

960

2.374

60.3

4.996

126.9

6.382

162.1

1.378

35

2.339

59.4

3 x M6 (2.000)

3 x M6 (50.8)

0.500

12.7

$

2,424.74
PDF Step
9444SS

1 1/2"

38.1

1500

680

0.362

9.2

37.795

960

2.374

60.3

5.760

146.3

7.469

189.7

1.378

35

2.339

59.4

3 x M6 (2.000)

3 x M6 (50.8)

0.500

12.7

$

2,424.74
PDF Step
9445SS

1 1/2"

38.1

1650

748

0.323

8.2

37.795

960

2.374

60.3

6.150

156.2

7.469

189.7

1.378

35

2.339

59.4

3 x M6 (2.000)

3 x M6 (50.8)

0.500

12.7

$

2,424.74
PDF Step
9450SS

2"

50.8

1680

764

0.079

2

55.118

1400

4.000

101.6

5.476

139.1

6.311

160.3

2.000

50.8

4.000

101.6

4 x M8 (3.000)

4 x M8 (76.2)

0.563

14.3

$

4,670.13
PDF Step
9451SS

2"

50.8

1680

764

0.209

5.3

55.118

1400

4.000

101.6

6.894

175.1

7.909

200.9

2.244

57

4.000

101.6

4 x M8 (3.000)

4 x M8 (76.2)

0.563

14.3

$

4,670.13
PDF Step
9452SS

2"

50.8

2245

1018

0.236

6

55.118

1400

4.000

101.6

6.984

177.4

7.909

200.9

2.244

57

4.000

101.6

4 x M8 (3.000)

4 x M8 (76.2)

0.563

14.3

$

4,670.13
PDF Step
9453SS

2"

50.8

2800

1273

0.232

5.9

70.866

1800

4.000

101.6

6.874

174.6

7.909

200.9

2.244

57

4.000

101.6

4 x M8 (3.000)

4 x M8 (76.2)

0.563

14.3

$

4,670.13
PDF Step
9454SS

2"

50.8

3000

1364

0.098

2.5

78.740

2000

4.000

101.6

5.394

137

6.236

158.4

2.000

50.8

4.000

101.6

4 x M8 (3.000)

4 x M8 (76.2)

0.563

14.3

$

4,670.13
PDF Step
9455SS

2"

50.8

3370

1527

0.224

5.7

80.157

2036

4.000

101.6

6.752

171.5

7.909

200.9

2.244

57

4.000

101.6

4 x M8 (3.000)

4 x M8 (76.2)

0.563

14.3

$

4,670.13
PDF Step
Omnitrack 94 series spring loaded ball transfer units are pre-stressed for omnidirectional & accurate positioning. As these units are from our 'heavy duty' range they offer the lowest coefficient of friction & smoothest performance available.
When incorporating Omnitrack 94 series units into heavy press tooling or dies, the tooling can be precisely positioned & then clamped. The additional force caused by will cause the disc springs to deflect whilst clamped, yet once unclamped, raise the tooling ready to be maneuvered away with ease & accuracy.
Material upgrade options are shown below – order by adding the suffix to the part number required, for example, 9441 'Z' which includes stainless steel balls/internal parts & improved resistance to high temperatures.
Spring mechanism parts remain carbon spring steel irrespective of material upgrades – consult us is other materials are required.
Ideal where load balancing or unequal track/load conditions exist.
Exceptional shock & high/low temperature resistance.
Adjustable spring pre-load.
Maximum load capacity at any angle of orientation.
Integral threaded mounting points provided in spring reaction washer.
Discover the rest of our ball transfer unit range.
Not found what you need? Call us now.
Maximum load rating unaffected at any orientation
Low Friction
1 : 0,0059000 Series only
Speed
2m/sec
Temperature
-50/+160ºC
High Shock Resistence

Uneven Loads
User Serviceable9000 Series only
Service Kits
Omnitrack Heavy Duty 9000 series ball transfers – In continuous production since 1954.
Rapidly restore performance within minutes by using Service Kits S1 & S2 offering 2 levels of components & full overhaul instructions.
Factory reconditioning service for spring loaded & custom units as these may require special tooling for safe disassembly.
To order state original part number, any identification mark & Service Kit required eg S1-9241. If in doubt, contact us & we'll keep you rolling!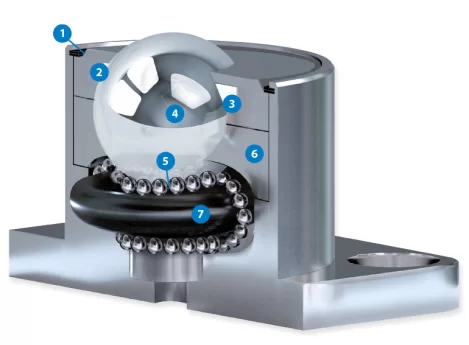 1 – Circlip

2 – Top Cap
3 – Felt Seal
(Ball Ø > 12.7mm)
4 – Main Ball

5 – Recirculating Balls

6 – Retainer
7 – Table


Can't find what you're looking for?
Try searching for key-words, part numbers, load, fixing types.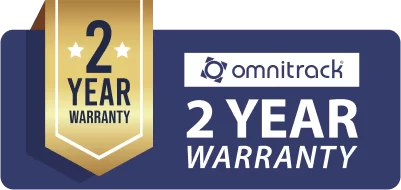 Subject to usage & conditions.