Service Kits
Omnitrack Heavy Duty 9000 series ball transfers – In continuous production since 1954. Rapidly restore performance within minutes by using Service Kits S1 & S2 offering 2 levels of components & full overhaul instructions.
Factory reconditioning service for spring loaded & custom units as these may require special tooling for safe disassembly.
To order state original part number, any identification mark & Service Kit required eg S1-9241. If in doubt, contact us & we'll keep you rolling!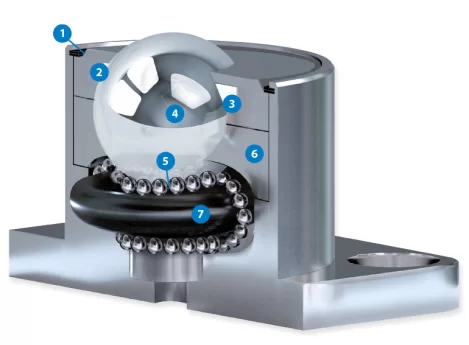 1 – Circlip

2 – Top Cap
3 – Felt Seal
(Ball Ø > 12.7mm)
4 – Main Ball

5 – Recirculating Balls

6 – Retainer
7 – Table

Omnitrack Ball Transfer Service Kits
Rapidly restore the performance of 9000 series ball transfers within minutes using service kits 'S1' & 'S2' – offering 2 levels of replacement parts and full overhaul instructions.
Using ball units in arduous conditions or in anticipated extreme conditions, we propose stocking service kits. In the eventuality of an unpredicted failure, you can get rolling again within minutes – whatever the eventuality.
9000 series heavy-duty ball transfers can be disassembled safely within minutes using the instructions or watching our video. Once the 'spirolox' retaining clip is removed the component parts can easily be disassembled by inverting the bearing unit over a suitable receptacle. The spirolox circlip is like the retaining ring used for many key rings, so it's easy to remove and recycle in use many times.
Each of the service kits contains the relevant spare parts, factory pre-tested and cleaned, ready for reassembly. Two essential parts of the assembly (depending on which level of spare parts you specify) will always require cleaning prior to reassembly. We've been manufacturing since 1909 and we're committed to keeping you rolling! 
We are committed to recycling the components that have not been subjected to wear as we believe in only replacing parts that will have a negative effect on performance. The inherently robust design and choice of first-quality materials allow this. 
We offer a full factory reconditioning service for spring-loaded and custom units as frequently these require tooling for safe disassembly. Where customers can't return spring-loaded ball units for original factory refurbishment, we have agreed to 'talk and walk' through the overhaul process and fitting or replacement of parts. We need to know that you have a suitably equipped workshop with technically competent personnel but it's all part of the service to help out when we can. This level of service is a testament to our commitment to our valued customers.
Our heavy-duty units have been in continuous production since 1954 and we're proud of our technical archive which contains most drawings of all models produced. We also retain bespoke/custom designs intended and specially produced for an application or specific project. This means we can produce service kits with genuine replacement parts for most models.
To order, state the original part number, any identification mark and the service kits required e.g. S1-9241.
Should the part number not be visible or present we can usually identify most units from our team of engineers whose knowledge base spans over 4 generations. A photograph or sketch will usually suffice.
If in doubt, contact us and we'll keep you rolling!
Can't find what you're looking for?
Try searching for key-words, part numbers, load, fixing types.