85 & 95 Series – Housed Spring Loaded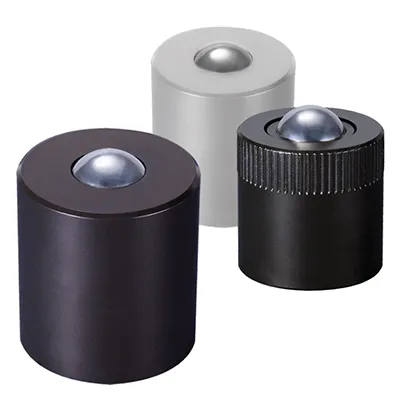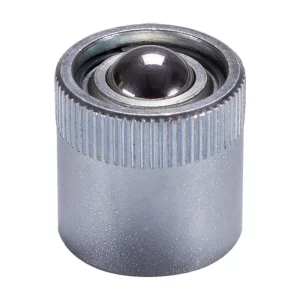 Part

Supports Load (lb)

Supports Load (kg)

Deflection (″)

Deflection (mm)

Load at max deflection (lb)

Load at max deflection (kg)

BALL ⌀ ″

BALL ⌀ (MM)

A

B

$ from

Files
8500

50

23

0.087

2.2

84

38

1/2"

12.7

1.000

❋

25.4

❋

1.000

25.4

$

85.98
8501

26

12

0.130

3.3

101

46

1/2"

12.7

1.000

❋

25.4

❋

1.000

25.4

$

85.98
9520

200

91

0.189

4.8

415

188

1"

25.4

2.000

50.8

2.185

55.5

$

284.92
PDF Step
9530

500

227

0.094

2.4

809

367

1"

25.4

2.500

63.5

2.374

60.3

$

301.58
PDF Step
9540

992

450

0.394

10

2117

960

1 1/2"

38.1

2.752

69.9

4.500

114.3

$

850.71
PDF Step
9550

2200

1000

0.240

6.1

4410

2000

2"

50.8

4.724

120

5.469

138.9

$

2,237.81
PDF Step
8500A

50

23

0.087

2.2

84

38

1/2"

12.7

1.000

❋

25.4

❋

1.000

25.4

$

102.76
8501A

26

12

0.130

3.3

101

46

1/2"

12.7

1.000

❋

25.4

❋

1.000

25.4

$

102.76
9520A

200

91

0.189

4.8

415

188

1"

25.4

2.000

50.8

2.185

55.5

$

322.04
PDF Step
9530A

500

227

0.094

2.4

809

367

1"

25.4

2.500

63.5

2.374

60.3

$

343.81
PDF Step
9540A

992

450

0.394

10

2117

960

1 1/2"

38.1

2.752

69.9

4.500

114.3

$

994.59
PDF Step
9550A

2200

1000

0.240

6.1

4410

2000

2"

50.8

4.724

120

5.469

138.9

$

2,458.22
PDF Step
8500Z

50

23

0.087

2.2

84

38

1/2"

12.7

1.000

❋

25.4

❋

1.000

25.4

$

0.00
8501Z

26

12

0.130

3.3

101

46

1/2"

12.7

1.000

❋

25.4

❋

1.000

25.4

$

0.00
9520Z

200

91

0.189

4.8

415

188

1"

25.4

2.000

50.8

2.185

55.5

$

497.65
PDF Step
9530Z

500

227

0.094

2.4

809

367

1"

25.4

2.500

63.5

2.374

60.3

$

551.83
PDF Step
9540Z

992

450

0.394

10

2117

960

1 1/2"

38.1

2.752

69.9

4.500

114.3

$

1,245.37
PDF Step
9550Z

2200

1000

0.240

6.1

4410

2000

2"

50.8

4.724

120

5.469

138.9

$

2,899.64
PDF Step
8500SS

50

23

0.087

2.2

84

38

1/2"

12.7

1.000

❋

25.4

❋

1.000

25.4

$

273.10
8501SS

26

12

0.130

3.3

101

46

1/2"

12.7

1.000

❋

25.4

❋

1.000

25.4

$

273.10
9520SS

200

91

0.189

4.8

415

188

1"

25.4

2.000

50.8

2.185

55.5

$

865.27
PDF Step
9530SS

500

227

0.094

2.4

809

367

1"

25.4

2.500

63.5

2.374

60.3

$

1,140.26
PDF Step
9540SS

992

450

0.394

10

2117

960

1 1/2"

38.1

2.752

69.9

4.500

114.3

$

2,822.36
PDF Step
9550SS

2200

1000

0.240

6.1

4410

2000

2"

50.8

4.724

120

5.469

138.9

-
PDF Step
Omnitrack Heavy Duty spring loaded units are ideal where uneven track conditions orshock loading occurs. Internal springs offer full retraction of the ball within the housing.We can tailor spring pre-loads, deflections & characteristics to your requirements. Consideralternative material upgrade options to withstand severe operating environments.
Omnitrack 95 series spring loaded ball transfer units are pre-stressed for omnidirectional & accurate positioning. As these units are from our 'heavy duty' range they offer the lowest coefficient of friction & smoothest performance available.
When incorporating Omnitrack 95 series units into heavy press tooling or dies, the tooling can be precisely positioned & then clamped. The additional force caused by will cause the disc springs to deflect whilst clamped, yet once unclamped, raise the tooling ready to be maneuvered away with ease & accuracy.
Material upgrade options are shown below – order by adding the suffix to the part number required, for example, 9520 'Z' which includes stainless steel balls/internal parts & improved resistance to high temperatures.
Spring mechanism parts remain carbon spring steel irrespective of material upgrades – consult us is other materials are required.
Maximum shock protection – Ball retracts fully within housing.
Ideal where load balancing or unequal track/load conditions exist.
Exceptional shock & high/low temperature resistance.
Maximum load capacity at any angle of orientation.
Push/press fit within bore or use tolerance rings.
Not found what you need? Call us now.
Maximum load rating unaffected at any orientation
Low Friction
1 : 0,0059000 Series only
Speed
2m/sec
Temperature
-50/+160ºC
High Shock Resistence

Uneven Loads
User Serviceable9000 Series only
Service Kits
Factory reconditioning service for spring loaded & custom units as these may require special tooling for safe disassembly.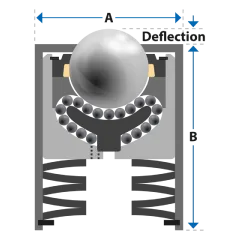 Tolerance Rings
Compensate for irregularities in bore & diameter.
Ideal where only single-sided access of mounting surface is reachable.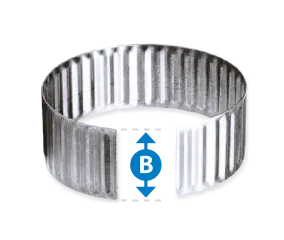 Heavy Duty

Part

A

BORE Ø MIN - MAX

B

$ from

Files

TR20

0.787

20

0.858 - 0.868

21.8 - 22.05

0.472

12

$

1.72

TR45

1.772

45

1.843 - 1.850

46.8 - 47

0.591

15

$

3.39
9520

❋

TR50

1.969

50

2.043 - 2.051

51.9 - 52.1

0.591

15

$

3.89

TR60

2.362

60

2.445 - 2.453

62.1 - 62.3

0.787

20

$

3.89

TR100

3.937

100

4.085 - 4.096

103.75 - 104.05

0.787

20

$

5.24