MSP Series – Bolt Fitting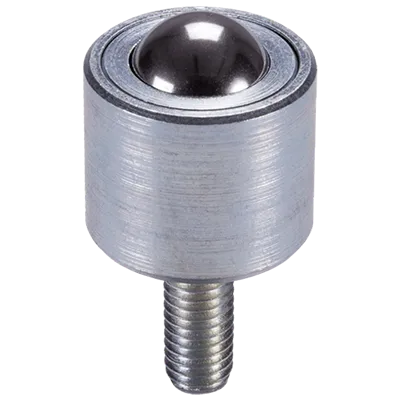 Part

Load (lb)

Load (kg)

Weight

BALL ⌀ ″

Ball Ø (mm)

A

B

C

D

E

F

$ from

Files
MSP8

29

13

0.046

0.021

5/16"

8

0.71

18

1.06

27

0.47

12

0.08

2

0.59

15

M6 x 0.04

M6 x 1.0

$

27,28
PDF Step
MSP10

55

25

0.079

0.036

1/2"

12

0.79

20

1.17

29.8

0.70

17.8

0.12

3

0.47

12

M8 x 0.05

M8 x 1.25

$

31,03
PDF Step
MSP11

55

25

0.097

0.044

1/2"

12

0.79

20

1.89

48

0.79

20

0.12

3

1.10

28

M6 x 0.04

M6 x 1.0

$

28,71
PDF Step
MSP12

55

25

0.086

0.039

1/2"

12

0.87

❋

22

❋

1.67

42.5

0.89

22.5

0.12

3

0.79

20

M8 x 0.05

M8 x 1.25

-

$

5,26
PDF Step
MSP14

132

60

0.121

0.055

5/8"

15

0.94

24

1.26

32

0.79

20

0.20

5

0.47

12

M6 x 0.04

M6 x 1.0

$

36,27
PDF Step
MSP15

132

60

0.183

0.083

5/8"

15

0.98

25

1.81

46

1.02

26

0.20

5

0.79

20

M8 x 0.05

M8 x 1.25

$

48,08
PDF Step
MSP19

165

75

0.240

0.109

3/4"

19

1.18

30

1.83

46.5

1.02

26

0.19

4.8

0.81

20.5

M8 x 0.05

M8 x 1.25

$

42,39
PDF Step
MSP22

397

180

0.564

0.256

7/8"

22

1.42

36

2.48

62.9

1.48

37.5

0.18

4.5

1

25.4

M12 x 0.07

M12 x 1.75

$

56,62
PDF Step
MSP30

772

350

0.970

0.440

1 3/16"

30

1.77

45

2.72

69.2

1.72

43.8

0.26

6.5

1

25.4

M12 x 0.07

M12 x 1.75

$

70,00
PDF Step
MSP45

1323

600

2.999

1.360

1 3/4"

45

2.44

62

4.22

107.3

2.60

66

0.33

8.5

1.63

41.3

M20 x 0.1

M20 x 2.5

$

222,05
PDF Step
MSP8A

18

8

0.046

0.021

5/16"

8

0.71

18

1.06

27

0.47

12

0.08

2

0.59

15

M6 x 0.04

M6 x 1.0

$

35,43
PDF Step
MSP10A

44

20

0.079

0.036

1/2"

12

0.79

20

1.17

29.8

0.70

17.8

0.12

3

0.47

12

M8 x 0.05

M8 x 1.25

$

39,17
PDF Step
MSP11A

44

20

0.095

0.043

1/2"

12

0.79

20

1.89

48

0.79

20

0.12

3

1.10

28

M6 x 0.04

M6 x 1.0

$

36,85
PDF Step
MSP12A

44

20

0.086

0.039

1/2"

12

0.87

❋

22

❋

1.67

42.5

0.89

22.5

0.12

3

0.79

20

M8 x 0.05

M8 x 1.25

-

$

9,56
PDF Step
MSP14A

110

50

0.143

0.065

5/8"

15

0.94

24

1.26

32

0.79

20

0.20

5

0.47

12

M6 x 0.04

M6 x 1.0

$

45,67
PDF Step
MSP15A

110

50

0.183

0.083

5/8"

15

0.98

25

1.81

46

1.02

26

0.20

5

0.79

20

M8 x 0.05

M8 x 1.25

$

57,50
PDF Step
MSP19A

121

55

0.249

0.113

3/4"

19

1.18

30

1.83

46.5

1.02

26

0.19

4.8

0.81

20.5

M8 x 0.05

M8 x 1.25

$

53,22
PDF Step
MSP22A

397

180

0.564

0.256

7/8"

22

1.42

36

2.48

62.9

1.48

37.5

0.18

4.5

1

25.4

M12 x 0.07

M12 x 1.75

$

68,27
PDF Step
MSP30A

772

350

0.948

0.430

1 3/16"

30

1.77

45

2.72

69.2

1.72

43.8

0.26

6.5

1

25.4

M12 x 0.07

M12 x 1.75

$

82,22
PDF Step
MSP45A

1323

600

2.977

1.350

1 3/4"

45

2.44

62

4.22

107.3

2.60

66

0.33

8.5

1.63

41.3

M20 x 0.1

M20 x 2.5

$

459,32
PDF Step
MSP8D

7

3

0.042

0.019

5/16"

8

0.71

18

1.06

27

0.47

12

0.08

2

0.59

15

M6 x 0.04

M6 x 1.0

$

20,33
PDF Step
MSP10D

11

5

0.068

0.031

1/2"

12

0.79

20

1.17

29.8

0.70

17.8

0.12

3

0.47

12

M8 x 0.05

M8 x 1.25

$

36,85
PDF Step
MSP11D

11

5

0.088

0.040

1/2"

12

0.79

20

1.89

48

0.79

20

0.12

3

1.10

28

M6 x 0.04

M6 x 1.0

$

34,51
PDF Step
MSP12D

11

5

0.086

0.039

1/2"

12

0.87

❋

22

❋

1.67

42.5

0.89

22.5

0.12

3

0.79

20

M8 x 0.05

M8 x 1.25

-

$

7,45
PDF Step
MSP14D

22

10

0.093

0.042

5/8"

15

0.94

24

1.26

32

0.79

20

0.20

5

0.47

12

M6 x 0.04

M6 x 1.0

$

44,40
PDF Step
MSP15D

22

10

0.152

0.069

5/8"

15

0.98

25

1.81

46

1.02

26

0.20

5

0.79

20

M8 x 0.05

M8 x 1.25

$

56,23
PDF Step
MSP19D

44

20

0.194

0.088

3/4"

19

1.18

30

1.83

46.5

1.02

26

0.19

4.8

0.81

20.5

M8 x 0.05

M8 x 1.25

$

42,07
PDF Step
MSP22D

44

20

0.441

0.200

7/8"

22

1.42

36

2.48

62.9

1.48

37.5

0.18

4.5

1

25.4

M12 x 0.07

M12 x 1.75

$

67,32
PDF Step
MSP30D

55

25

0.763

0.346

1 3/16"

30

1.77

45

2.72

69.2

1.72

43.8

0.26

6.5

1

25.4

M12 x 0.07

M12 x 1.75

$

86,28
PDF Step
MSP45D

55

25

2.426

1.100

1 3/4"

45

2.44

62

4.22

107.3

2.60

66

0.33

8.5

1.63

41.3

M20 x 0.1

M20 x 2.5

$

294,10
PDF Step
MSP30SS

Inquire

Inquire

Inquire

Inquire

1 3/16"

30

1.77

45

2.72

69.2

1.72

43.8

0.26

6.5

1

25.4

M12 x 0.07

M12 x 1.75

-
MSP45SS

Inquire

Inquire

Inquire

Inquire

1 3/4"

45

2.44

62

4.22

107.3

2.60

66

0.33

8.5

1.63

41.3

M20 x 0.1

M20 x 2.5

-
The MSP series medium duty ball transfer units with the bolt fitting are machined from solid steel & case hardened for wear resistance. A reinforced machined steel top cap protects against impact from misalignment of the conveyed item. Lubricated for life & zinc plated for resistance to corrosion. Standard materials; Body & cap AISI 1015, Balls AISI 52100. Stainless steel upgrade 'A' & 'SS' feature AISI420 balls Shock Resistance & body. The main ball sizes ≥19mm incorporates a felt seal to restrict contamination.
This series features a single drain hole.
Metric external thread (male).
Low Friction
1 : 0,002
Speed
1.5m/sec
Temperature
-30/+100ºC
Shock Resistence

Orientation Horizontal / Up
Nyloc Nut & Washer + 'T' Wood Insert Kits
Use with Heavy Duty 81 & 91 series, Medium Duty MSP series & Omnicaster Ball Casters.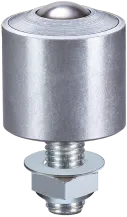 Wood Insert Fixing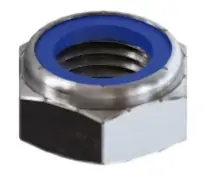 Nut & Washer Fixing
Can't find what you're looking for?
Try searching for key-words, part numbers, load, fixing types.